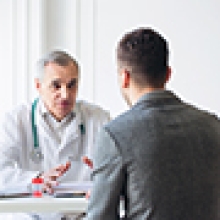 Peter consults his doctor for a few months because he is tired, he lost weight, suffers from back pain and radiating pain in the pelvis.
Her GP suspected a herniated disc and was referred to a neurosurgeon who ruled out the possibility of sciatica.
Thereafter, stone pointed to his GP rectal bleeding (blood in stool).
Her GP prescribed him an anti hemorrhoidal treatment and was referred to a rheumatology department has not found an explanation for symptoms of Peter.
Several months later, Peter was admitted to emergency for anal abscess.
This is when he announces that he is suffering from rectal cancer at a very advanced with lung and liver metastases stage.
Peter and his family decided to attack the general practitioner, the expert concludes a fault in the diagnostic approach to it, which, if practiced a simple touch could detect colorectal neoplastic origin of pain.
The doctor will be ordered to compensate the loss represented by the loss of opportunity to benefit from chemotherapy at an earlier stage.